The RETIREMENT CLARITY Process™
Our Retirement Clarity Process™ will provide you with answers to four critical questions:
Will I run out of money in retirement?
How much can I spend in retirement?
Am I overpaying taxes?
Is my portfolio invested the right way for retirement?
We will answer these questions, and any others you have on your mind, and provide you with custom-tailored ideas and suggestions to help you reach your retirement goals.
For those who are a good fit for our firm, there is no cost and no obligation for this process because we want you to know exactly how we can help you before you entrust us with your nest egg or pay us a single penny.
Step 1 - Exploration Meeting
In this meeting, we'll discuss what is most important to you and what elements are essential for you to live a great life.
Step 2 - Observations Meeting
In this meeting, we will cover our observations about your current situation as they relate to your goals and plan for the future.
Your answers along with the documents we requested will allow us to provide you with a one-page, easy-to-understand plan with custom-tailored ideas and suggestions to help you reach your goals.
This is also where you'll have the full picture of how we will work together.
At the end of this meeting, we will ask you if you'd like to begin partnering with us right away or if you would like to sleep on it. There is never a hard-sell or pressure to say yes. We want long-term, happy relationships with our clients.
Step 3 - Onboarding
After our Observations Meeting, we will continue to answer any other questions you may have by phone or email.
If you're ready, we will send you a short onboarding form to allow us to start the paperwork so we can partner together. Once completed, we will send you the completed forms for e-signature.
As a client, we will continue our Retirement Clarity Process™ by scheduling your Vision meeting.
Sign up for Our Free Retirement Guide!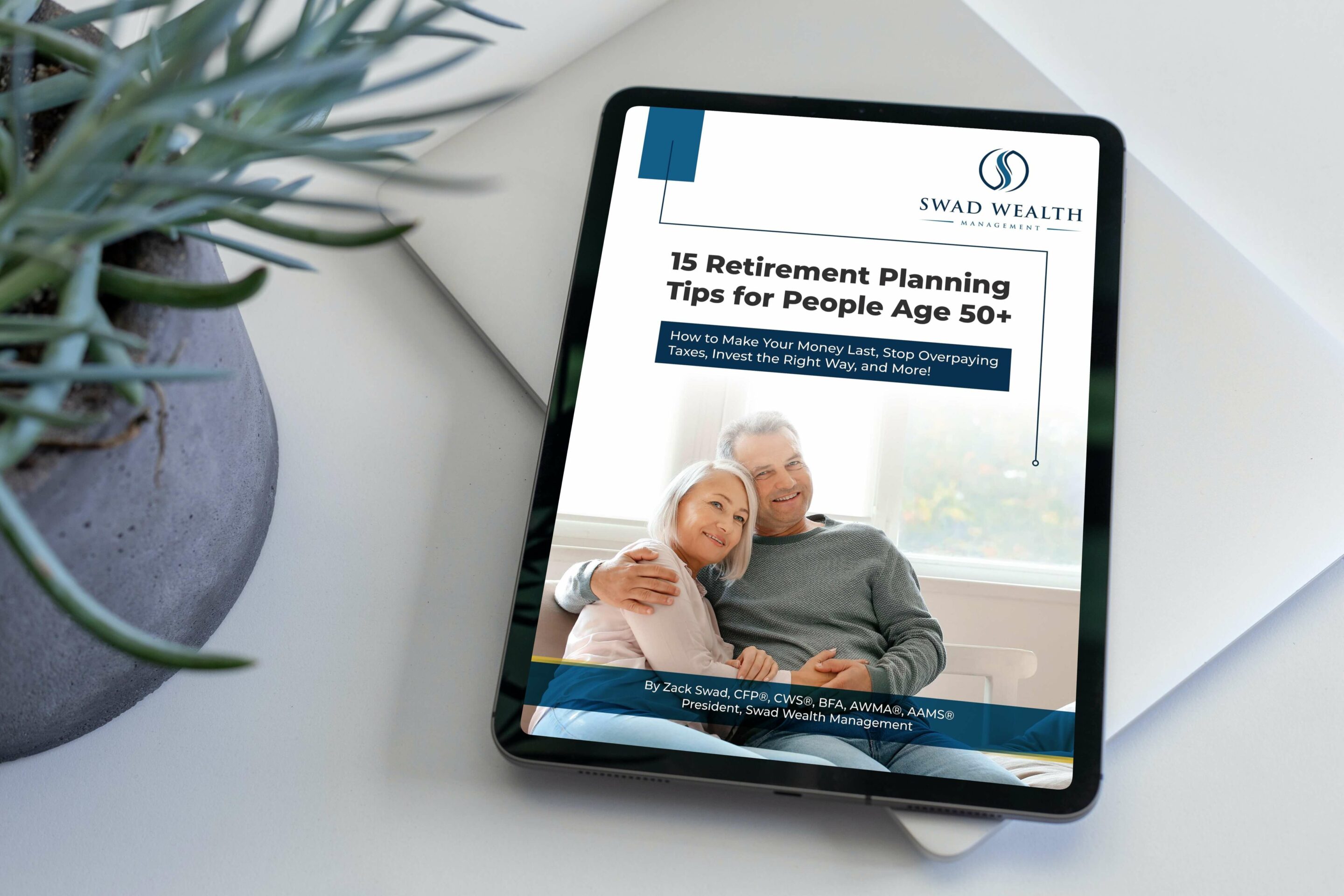 Subscribe to our email list, and I'll email you stories, tips, checklists, and more. Initially, you will get daily email for 14 days, and then weekly thereafter. If you can't handle the initial daily emails, DO NOT SUBSCRIBE.
Sometimes the emails contain amazing tips or checklists. Other times, they are stories about me or people I know. Either way, I must be doing something right because people that are thinking about retirement seem to love them.
And when you subscribe, I'll give you a PDF guide called "15 Retirement Planning Tips For People Age 50+" for free, which is packed with 45 pages of retirement ideas to help you make the most of your wealth and life.
(707) 899-1010 ♦ info@swadwealth.com
100 Stony Point Rd, Suite 244, Santa Rosa, CA 95401
Hours: Monday through Friday, 9:00 AM to 6:00 PM PST (Office Hours by Appointment Only)
© 2022 SWAD WEALTH MANAGEMENT, LLC. ALL RIGHTS RESERVED.